Here are some GREAT ideas to pull off one of the most fun playdate luau's ever!!!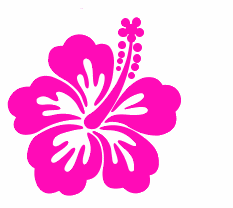 Costume Contest
To encourage your members to dress up for this event have a costume contest with categories like: The Loudest Hawaiian shirt, The most Fabulous Flip Flops, Most likely to be mistaken for a tacky tourist etc! Make sure to post this to your event description or really talk it up on your message boards so every knows to dress the part!



Musical Beach Towels *great for the kiddos*
All you need for this game is towels and Hawaiian music. Download Hawaiian music to use for this game or for mood music at this event. You can have each kid bring his or her own towel to the event to make sure you have
enough! This game is played just like musical chairs except with beach towels!



Hot Coconut




Another fun game to use the Hawaiian music for! This game is played like Hot Potato just with a coconut! You could also use a beach ball for this game instead of a coconut. Kids love beach balls! You could just throw a bunch of beach balls out and I am sure they would have fun for hours just playing with them!



Limbo!
Have two adults hold a broom stick, form a line and LIMBO!

Have a Hula Hoop contest!
*Fun for the kiddos but also fun to watch the adults try too!*
See who can hula the longest, who can hula the most hoops successfully,
and who does the most unique hula!



Ulumaika
*this game would be fun for the dads to play at a backyard barbecue luau*
Ulumaika (eu-lew-my-kah) is a game that is sort of like bowling. You try to roll a rounded stone through two upright sticks. It is fun, but hard. You play outside on a lawn or
flat ground.
The ancient Hawaiians used a shaped lava rock for their rolling stone.What you need to play 'Ulu maika: two wooden stakes that are about 1 foot long each and a rolling stone shaped like a short, wide cylinder. It should be about 3 inches wide and 1 inch thick. A hockey puck would work or any other object of this shape.
How To Play 'Ulu maika: Measure off a distance of 15 feet from where the player is standing. For younger players, you can make the distance shorter. Pound the stakes into the ground here. Put them 6 inches apart.The player stands at the starting line and takes the rolling stone and tries to roll it so that it will go between the two stakes. That's it! Good aim and good luck!




Dance, Dance, Dance!




Throw on the Hawaiian music and shake those hips!
Lau (leaf) Printing
Lau means leaf in Hawaiian. You can paint leaves and flowers and use them like stamps to make pretty pictures. What You Need for Lau Printing: leaves and flowers, paint - tempra paint for paper, acrylic paint for cloth, drawing paper or cloth (t-shirts!) How to do Lau Printing:Coat the leaves and flowers with paint, using a paintbrush. Press the leaves and flowers lightly on the paper or cloth, paint side down. Let it dry. There, that was easy! If you are printing a picture on a t-shirt, use acrylic paint. When it is dry, cover
the design with paper and iron it to set the colors before you wash it the first time.




Paper Dolls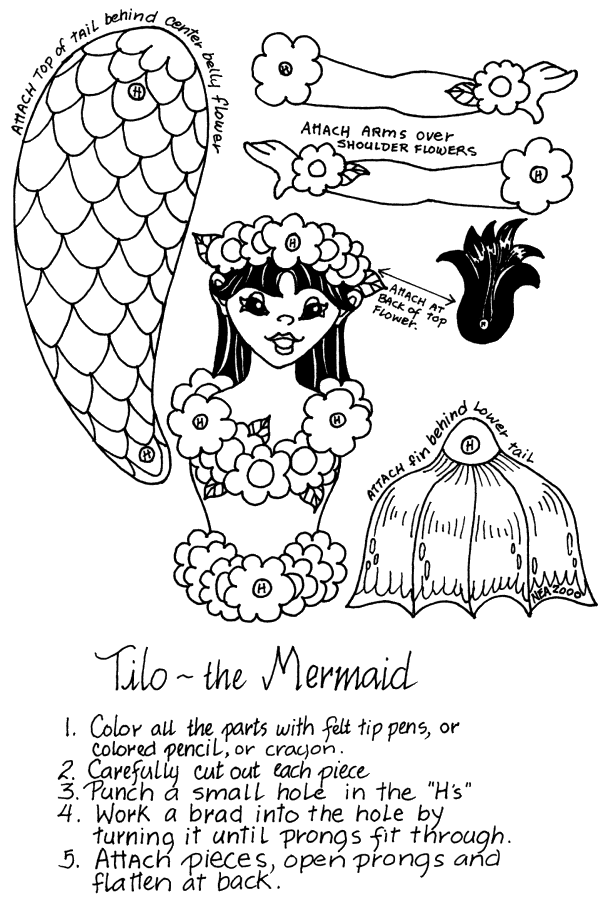 *She can be easily modified to be a hula dancer also!*


Make Leis
You'll need: 2 rolls of crepe paper -- different colors, safety scissors, embroidery thread, and a craft needle. Cut a 3-foot section of crepe paper from each roll. Place the crepe paper strips on top of each other. Set crepe paper aside. Measure out and cut a length of embroidery thread for your necklace. Make sure the necklace will fit over your head when the thread's ends are tied. Thread the needle with the cut string. Picking up an end of the doubled crepe paper strip, pleat it into 1-inch sections. You'll end up with a thick accordion of pleats. Push the threaded needle through the pleated paper. Tie the ends of the thread together. Cut the pleats and spread out the paper pieces. Wad the necklace into a tight ball to crumple the paper. Fluff out the crepe paper.


And if you are really ambitious.....
Make a Volcano
Wow the kids with their own volcano eruption. You'll need: 1 soda or juice bottle with lid, red or orange food coloring,1 tablespoon flour, ½ cup vinegar,1 tablespoon baking soda, and a funnel. Let older kids funnel the dry ingredients into the bottle. Cover. Let little ones shake the bottle to mix the ingredients. In a separate container, have the kids mix the vinegar and add food coloring. Little ones can decide when the color is just right. Bury the bottle in dirt, leaving the bottle's top unobstructed. Remove the lid. Add the vinegar mix to the dry ingredients and watch your volcano erupt. Add more vinegar for a second eruption.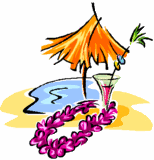 Food & Drinks
The easiest and least expensive way to provide food for a big event is to do a pot luck. If you are going to do a barbecue I recommend you ask your members to bring both what their family only wants to grill (ie if a family of four wants to eat two steaks and two hot dogs then that is what they would bring) AND a side dish to share.
We have found that we have the most successful pot lucks when we list in our event description suggestions on what to bring and ask the members to list what they will be bringing in their RSVP comments.
A pot luck list might look something like this:
Paper cups and paper plates
Plastic utensils and napkins
Cheese and cracker plate
Fruit plate
Chips and dip
Finger foods
Dessert
Here are some websites for authentic luau food recipes!

cooks.com
popular luau recipes
more luau recipes
A few other recipe suggestions:
Hawaiian Seafood Kabobs
1/4 cup pineapple juice
1/4 cup oil
2 Tbsp. rum
1 env. GOOD SEASONS Asian Sesame Salad Dressing & Recipe Mix
1/2 tsp. ground ginger
1 lb. mahi-mahi, cut into 1-1/2-inch pieces
1 medium red pepper, cut into 8 pieces
8 pineapple chunks
2 green onions, each cut into 4 pieces
4 wooden skewers
3 cups hot cooked rice
MIX juice, oil, rum, salad dressing mix and ginger in small bowl until well blended. Pour over combined fish, red peppers, pineapple and onions in shallow dish; cover. Refrigerate 30 min. to 1 hour to marinate. Drain fish mixture; discard marinade. PREHEAT greased grill to medium-high heat. Thread fish, vegetables and pineapple alternately on skewers.PLACE kabobs on grill. Cook 4 to 6 min. on each side or until fish flakes easily with fork. Serve over hot rice.
Hawaiian Ham & Cheese
2 slices honey wheat bread, toasted
1 Tbsp. MIRACLE WHIP Light Dressing
6 slices OSCAR MAYER Shaved Smoked Ham
1 canned pineapple ring, drained
1 KRAFT 2% Milk Singles
SPREAD toast slices with dressing.
COVER 1 of the toast slices with ham, pineapple and 2% Milk Singles; top with remaining toast slice.
Fruity Pineapple Boats with Creamy Lemon Dip
1 whole pineapple
1 cup honeydew melon, cut into bite-sized chunks
1 cup strawberries, cored and sliced in half
1 package (4 ounces) light cream cheese, softened
½ container marshmallow cream
1 teaspoon lemon juice
To make pineapple boats: Cut the pineapple (including the crown) into quarters. Cut the fruit away from the rind, leaving a half-inch outer layer.
Cut pineapple fruit into bite-sized pieces. Measure out 1 cup pineapple chunks and set aside. Cover and refrigerate remaining pineapple for other recipes.
Meanwhile, in a medium-sized mixing bowl, combine cream cheese, marshmallow cream and lemon juice. Beat with an electric mixer beat until smooth. Spread creamy mixture onto pineapple boats. Top with fruit.
Hawaiian Sundaes
Use vanilla ice cream or fruit flavored sherbert
Offer a variety of toppings that could include: chopped macadamia nuts, pineapple chunks, coconut flakes, banana slices, mandarin oranges, sliced strawberries.
Let everyone build their own sundaes and ENJOY!
Drinks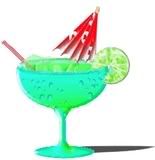 Maui Wowie Coolers
1 cup pineapple chunks
1 small package Kool-Aid (blue or orange for a tropical look)
1 cup sugar
1 cup water
Ice cubes
Strawberries (for garnish)
Add pineapple chunks to blender and blend for 30 seconds. Add Kool-Aid, sugar, water and ice cubes. Blend until smooth. Garnish edge of glasses with a strawberry.
Endless Summer
2 oz mango juice
1 oz pineapple juice
1 oz orange juice
1/2 oz strawberry syrup
2 oz dry ginger ale
Shake juice and syrup, and strain into an ice-filled wine goblet. Add the ginger ale, garnish with fruit in-season, and sprinkle with grated nutmeg. Serve with straws.
Luau Sherbert Punch
2 liters soda
1 gal fruit juice
2 pints sherbet
Mix the carbonated soft drink (like 7-Up) with different flavored fruit juices, and float the sherbet on top before serving.
Cocktails
Luau Lemonade
3 cups of shaved ice
2 oz of Vodka
4 oz of lemonade
tsp sugar
Mix all ingredients for a punchy version of the traditional lemonade!
Mai Tai
1 oz Light Rum
1/2 oz Orange Liqueur
1 oz lime juice
1 oz pineapple juice
2 oz orange juice
a dash of Grenadine
Shake all ingredients with ice and strain into glass.
Sea Breeze
4 oz cranberry juice
1 oz grapefruit juice
1 wedge of lime
1/2 oz of Vodka
Pour Vodka, cranberry juice and grapefruit juice into glass over ice cubes. Add the wedge of lime, stir and serve.
Island Iced Tea
1 oz Vodka
1 oz White Rum
1 oz Tequila
1 oz Gin
1 oz Orange Liqueur
Mix all ingredients.
Fun Hawaiian Resources
English to Hawaiian Translator
How to Hula
Find Your H
awaiian Name